Check out examples of our stunning custom built apps!
ALL Activate Mobile Apps are custom built from the ground up, which means that (as you will see in our examples below) each and every app is unique and specifically tailored to suit your business.
Involvement from the start means we will begin immediately with the layout of your App tabs, as well as working with you in identifying the correct content and linking structure for your App. This includes the build in of promotional areas and design of your App for easy navigation, customer targeting and visibility in iTunes and Google Android platforms.
We will deliver a professionally designed App that speaks to your target audience, ready and optimized for both Phones and Tablets
You can scan the specific QR codes (App Store on the left, Android on the right) with your mobile device and install for free.
Don't have a QR scanner? We recommend 'i-nigma', available for free on both the App Store and Google Play.
OR you can click on 'Play' on the Preview App to see a preview on your browser. For an optimum experience it is recommended that you refresh your screen between each preview PLEASE note that for some tabs full operation will not be operational on the web based browser and will only work fully on the installed app. Videos and podcasts will also only play correctly in the installed app.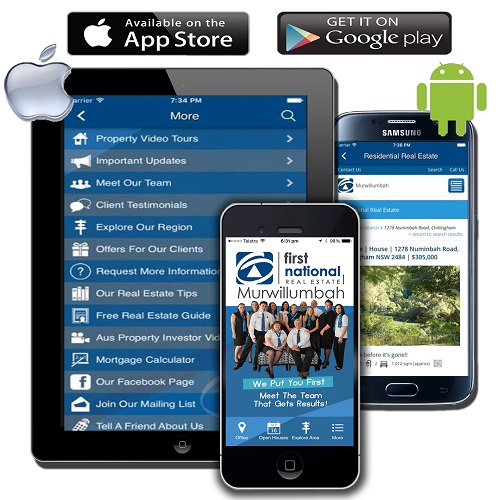 "As a proactive Real Estate Agent, we know we must always strive to stay ahead of our competitors and with what Activate Mobile Marketing were offering, we knew could do just that – so we took the mobile plunge!
It has turned out to be a great decision – we love our Mobile App and I have no hesitation in recommending doing business with Activate Mobile Marketing – with the wealth of ideas that they have shown us, it is exciting to know that our Mobile App will help us to achieve our one driving goal – to serve our clients better in what is now a mobile world!"
Peter Reading
Principal
First National Murwillumbah